---
I can't send my pot to the Pottery Portal / Facebook error



For iOS users:



If you noticed problems with community portal integration please check if your Pottery app is one of the applications that is authorized to access your Facebook. Simply check Facebook settings in the general settings on the device. Screen below shows proper approval.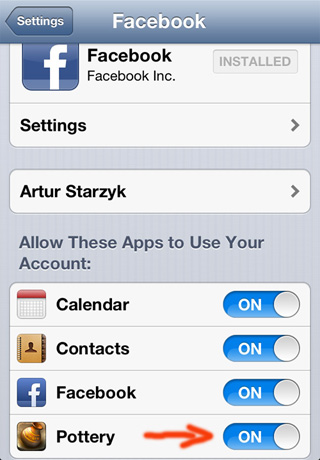 If this still doesn't work. You have to delete your Facebook account and add it again. Before you delete the account, make sure to shut down the Pottery app. Double press the home button and then press and hold the pottery game icon – use red minus to turn off the application. Now add your Facebook account again and run the game.



For Android users:



Due to several Android versions and different configurations on each phone we are unable to provide exact walkthrough. Basically make sure that your Facebook account (used in the official FB app) is the same you are using in the Pottery app. If not, please delete the Facebook app and install it again with the proper account. Then once you launch Pottery it will ask for a permission to connect with Facebook. If you agree then it should work. Additionally you can log out and log in once again inside the Pottery app. Use "switch user" icon to finalize this process. After that "facebook error" should disappear.

How to retrieve my premium brushes after app re-install or on the new device?

To have access to all premium pack brushes you need to finish first 11 quests. Then you will be able to visit Premium Store (check the new icon on the main menu) and use the "refresh" icon to retrieve all purchased previously packs.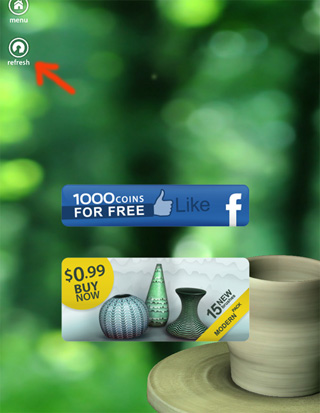 Please notice, that for retrieving you'll need the same account used to purchase the packs in the past. Apple or Google doesn't allow to move the content from one account to another.

IMPORTANT INFO:

1. Please make sure that you have latest game version from the store
2. Please make sure your OS version is the newest that you can get for your device.
3. You can also try to delete the game from the device and install it again. However be aware that you will lost your game progress (coins, quests and regular brushes) and you will need to start over again.
4. If you still experience the problems, you can contact our support team [support (at)idreams.pl] and ask to refund the application.